CEO Message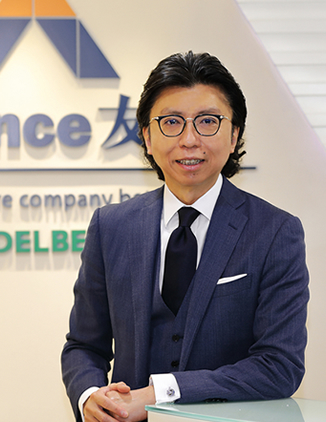 Now is the time to crystallize the lessons learnt and to implement reforms to build a sustainable and resilient future.

Together we craft material solutions for the future. Together we will emerge stronger.
2019 and 2020 had been unprecedented and challenging years for Hong Kong.
Hong Kong's economy started to deteriorate as a result of the 2019 social incidents. The outbreak of COVID-19 pandemic in 2020 has further dampened the weak growth momentum of Hong Kong and significantly impacted all local businesses. The COVID-19 pandemic has spread with alarming speed in the highly networked world bringing the global economic activity to an almost standstill. The pandemic has revealed the vulnerability of individuals, communities, and businesses, and challenged the sustainability. Alliance is no exception and we have faced major challenges with the profound changes in economic, social and market landscape in last two years.
Protection of our employees as they return to work amid the epidemic situation of Hong Kong is our top priority. We responded swiftly to the virus outbreak by activation of our Business Continuity Plan (BCP) and proactive implementation of remote working, split team, back up workplace and social distancing for our operations. We have continued to source adequate personal protective equipment, including face masks, for all our people. With the effective implementation of the BCP and dedication of Alliance teams, we kept our business running during the difficult times while protecting our customers and employees. Besides assuring the continuity of our customers' construction activities, we also managed to support the Hong Kong government by providing concrete solutions for construction of the quarantine camps.
Turned risks into opportunities
2019 and 2020 were undoubtedly years full of chaos and uncertainties, but they were also years of triumphs for Alliance. With the commitment, innovation, and resilience of our people, we turned risks into opportunities and achieved strong business results for the last two years. We were also able to accomplish our target ESG initiatives in the reporting period.
In our previous report, we launched the Alliance Sustainability Ambitions 2030, a key step to outline the long-term strategic plans for realization of our sustainability goals. Despite the challenges over the last two years, we persisted our actions on our four strategic pillars - People, Resources, Innovation and Community.
People is our most important asset
We have made good progress in recruitment and development of young talents to rejuvenate the Alliance teams and support the execution of our succession planning programme. It is encouraging to see our young talents continue to grow professionally and take up important roles in the Company. We are committed to ensure a safe and healthy workplace for our people, our journey of continual improvement in occupational safety and health performance will never end. It is encouraging that we have attained zero lost–time-injury in 2020 with the concerted effort of all teams.
Ethical and sustainable source of materials
We actively and consciously source and procure raw materials and services in an ethical, sustainable, and socially conscious way. We continue to apply the circular economy model developed to drive good practices in different stages of our product lifecycle. Through the independently verified product certification and the quality management system, we ensure the traceability, consistency and compliance of our raw materials which are of fundamental importance for our offerings of safe, responsible, and sustainable products to our customers. We realize our commitment on responsible exploitation of natural resources with our green quarry operations, production pollution control, green concrete products with alternative supplementary cementitious materials, and optimized logistics to deliver efficiently while minimizing carbon footprint.
A major milestone of decarbonization
We continue to seek different opportunities to lower our carbon footprint. We had installed solar power system at our two concrete batching plants to support the development of renewable energy in Hong Kong. We have achieved a major milestone of decarbonization, with more than 40 of our concrete products being certified as low-carbon concrete mix designs under the "CIC Carbon Labelling Scheme". We have set out our Carbon Reduction Roadmap 2030 to drive the innovation of our product and service development to support the long-term decarbonization goals of the construction industry.
We also embark on our digital transformation journey for a better future. We made a big step forward in the reporting period by launching our new ERP system and the associated applications including the customer portal and other mobile apps which have enhanced our productivity as well as the supports to our customers. The digitalized initiatives and new concrete plant development in the pipeline will strengthen our operational infrastructure to serve our customer better.
With strong commitment to social responsibility and sustainable harmonic relationship with the community, we continued our CSR and community engagement actions amidst the pandemic. A series of caring programmes were launched to support the vulnerable groups to fight the COVID-19 battle, including donation of surgical masks and hand sanitizers, as well as full sponsor of anti-microbial coating service.
COVID-19 - A wake-up call for all
The threat of global climate change and COVID-19 outbreak is a wake-up call and point of transformation for all. The world is undergoing profound changes and return to the old normal is no longer possible. The future seems more uncertain and strained after the COVID-19 crisis, but it is more open at the same time. Now is the time to crystallize the lessons learnt and to implement reforms to build a sustainable and resilient future.
I would like to express my sincere gratitude to all our employees and contract drivers for their dedication and contribution to our 2019-2020 results. I also wish to thank our shareholders, customers, business partners and suppliers for their continued great support.
We all have a key role to play
Everyone in Alliance have a key role to play in the transformation to create a better future for the business and the community. We shall push the boundaries to strengthen innovation and deepen partnerships with all stakeholders.
Together we craft material solutions for the future. Together we will emerge stronger.
Vincent Yu
Chief Executive Officer